Looking for a way to brighten your day and add personality to your décor?  Consider pendant lights. Pendant lights while not new on the scene, are definitely the new "it" light. Pendant lights come in every shape from the teeny tiny mini pendants to oversized HUGE pendants and the oh so on trend multi light pendant.  They're super transitional from modern to traditional, coastal to Scandinavian, mid-century modern to farmhouse.
With so many styles on the market there's no doubt there's a pendant light that will make your heart skip a beat and help you add some cool factor to your décor.
When most people think of pendant lights they think of them as what one uses over a kitchen island. Whereas that's certainly true there are tons of other clever ways to use them that are not quite so mainstream.
Bathrooms:
You probably know that wall sconces are a great way to layer functional lighting into a bathroom but pendant lights can be too.  Hung at the correct height they can provide great lighting for grooming, applying makeup and shaving. Choosing the right pendant here is key though, you'll need a shade that is translucent and cast light uniformly to the face versus a shade that cast only downward light onto the counter.
Bedrooms:
Good bedside lighting is an important part of bedroom design.  The lighting should function for reading and safety but be aesthetically pleasing too.  Generally we think of using table lamps for this purpose, but here again pendant lights make a great substitution.  The added bonus of hanging pendant light above your nightstand is less clutter.  It's important to note that most pendant lights don't come with an on off switch, so it is best to plan for switches prior stating a new construction or remodel.  Not building or doing a big remodel? All is not lost, your electrician can help you retrofit your room for pendants. And for DIYers, look for a plug-in style with an inline on off switch. IKEA is a good source for these.
Halls:
Hallways, just skip the recessed can light and opt for a run of pretty pendants.  This a great way to add visual interest in an otherwise dull hallway.
Dining Rooms:
Move over dining table chandelier, pendant lights above a table are what's on trend and with good reason. Don't think a big pendant is absolutely necessary above the table, think out of the box. A couple of mini pendants will look super cool too. Mini pendants while small like the name says can actually be pretty dramatic when done right.  Lots of things to consider here though, ceiling height, how much light you need, size and style of the space.  We're happy to help you choose the "it pendant" that's just right for you.
Living Rooms:
Creating some drama in the living room might just call for the aforementioned HUGE pendant light.  I absolutely love the look and would have one in my house if only my diminutive 8 foot ceilings would allow.  These behemoth's really do need higher ceilings to work well, but even 9 foot ceilings would do.  Centering one of these bad boys over a seating area is a great way to up your decors  "it" factor.
If your ceiling height doesn't allow for one of these mega lights, then a multi pendant might be a great option. Multi might technically mean more than one, but when I'm talking multi light I mean a crowd of them.  The more the merrier.  This fixture might not be for everyone because subtlety is definitely not its strong suit, but if you want to up your drama game, he may be your interiors new best friend.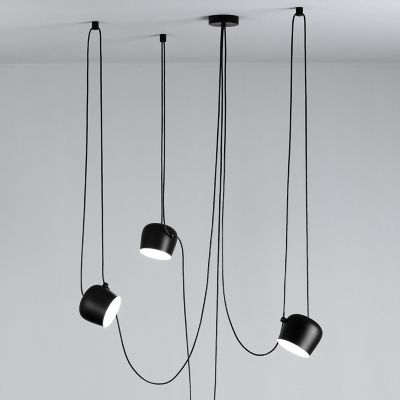 We would love to help you find your perfect pendant.  Check out some of our favorites here: https://linktr.ee/DesignDirections
There are no hard rules to pendant lighting, but there are some helpful hints we can share.  We have a whole blog post about pendant light heights and spacing for best results that you can check out https://designdirections.com/tips-on-how-to-choose-space-pendant-lights-above-a-kitchen-island/